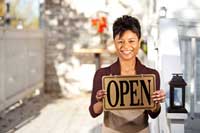 As a small business owner you know a cookie cutter approach doesn't work for you, especially when it comes to your accounting. Some small businesses only need a little help every few months, while others require a more hands on approach. That's why Adam Traywick, LLC offers customized accounting packages for each business.
After your initial free consultation, a business accounting plan of action will be developed and customized for your specific accounting needs based on the size and complexity of your business.
Whether you need:
A hands-on approach where Adam Traywick, LLC handles everything from entering the data into your accounting software, to taking care of payroll, to monthly reports and evaluations.
A simpler, lower cost approach with basic quarterly filings and reporting
Or something somewhere in the middle,
Adam Traywick, LLC has you covered for your small business accounting needs, and you'll only pay for the services you need.
Special Package for New Businesses
It's a lot easier to keep a good set of books if you start with a good set of books. If your business is less than a year old, we have a special service package to make sure you start things right. It includes:
Quickbooks Set-up: The Quickbooks set-up wizard is great in theory, but it doesn't do a very good job of customizing things for exactly what your business needs. Never fear. Adam Traywick, CPA will customize your chart of accounts to make sure you're tracking the numbers relevant to your business' success. He'll set things up so you have easy access to the reports you really need and even set things up for your payroll.
QuickBooks Training Session: Now that it's set up, you need to know how to use it. QuickBooks is an excellent program, but only if you know how to use it correctly. In a hands on one-hour training session Adam Traywick, CPA will use his skills as a QuickBooks Pro Advisor to teach you the right way to use this powerful software, advise you on staying up to date and avoiding trouble spots, and show you shortcuts you probably didn't know existed.
As a new business owner this special package is available for only $199 (a $300 value).
Book your free initial consultation with Adam Traywick, CPA today and find out which package is right for you!